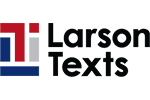 A.A., Clark College, Vancouver, Washington, 1963
B.S. in Mathematics, Lewis & Clark College, Portland, Oregon, 1966
M.S. in Mathematics, University of Colorado, Boulder, Colorado, 1968
Ph.D. in Topology, University of Colorado, Boulder, Colorado, 1970
Faculty appointment at Penn State University at Erie from 1970 to present. Professor of Mathematics since 1983.
Lead author of many mathematics textbooks from 1979 through present, covering grade levels from 6th Grade through College Calculus.
Larson Texts was founded by Ron Larson and his son Tim Larson in 1983. At that time, the company employed three people. The company incorporated in 1993 and now employs over 60 people. Larson Texts, Inc., and Big Ideas Learning, LLC develop and produce educational materials, including print materials and software. The companies are jointly owned by Ron, his wife Deanna Larson, son Tim Larson, daughter Jill Larson, and Scott O'Neil. Each of the five people is an equal share holder and each works at the business.
Larson has received several honors, including several from the Textbook Author's Association. In 1998, he was selected by Lewis and Clark College to receive the college's Distinguished Alumni Award.
TEXTBOOKS
Calculus for AP: 2017
Calculus: 1979, 1982, 1986, 1990, 1994, 1998, 2002, 2006, 2010, 2014
Multivariable Calculus: 1994, 1998, 2002, 2006, 2010, 2014
Calculus of a Single Variable: 1979, 1982, 1986, 1990, 1994, 1998, 2002, 2006, 2010, 2014
Calculus of a Single Variable: Early Transcendental Functions: 1995, 1999, 2003, 2010, 2011, 2015
Calculus: Early Transcendental Functions: 1995, 1999, 2003, 2007, 2011, 2015
Calculus Alternate Edition: 1979, 1982, 1986, 1990, 1994, 1998
Essential Calculus: Early Transcendental Functions: 2008
Calculus: An Applied Approach: 1983, 1987, 1991, 1995, 1999, 2003, 2006, 2009, 2013, 2017
Brief Calculus: An Applied Approach: 1983, 1987, 1991, 1995, 1999, 2003, 2006, 2009, 2013, 2017
Brief Calculus: An Applied Worktext: 1999
Applied Calculus for the Life and Social Sciences: 2008
Calculus I with Precalculus: 2002, 2006, 2012
Elementary Linear Algebra: 1988, 1991, 1996, 2000, 2004, 2010, 2013, 2017
Finite Mathematics : 1991
Finite Mathematics with Calculus: 1991
College Algebra: 1985, 1989, 1993, 1997, 2001, 2004, 2007, 2011, 2014
Algebra and Trigonometry: 1985, 1989, 1993, 1997, 2001, 2004, 2007, 2011, 2014
Precalculus: 1985, 1989, 1993, 1997, 2001, 2004, 2007, 2011, 2014
Precalculus with Limits: 2007, 2011, 2014
Precalculus: A Concise Course: 2007, 2011, 2014
Trigonometry: 1985, 1989, 1993, 1997, 2001, 2004, 2007, 2011, 2014
College Algebra: An Internet Approach: 2000
Precalculus: An Internet Approach: 2000
College Algebra: Real Mathematics, Real People: 1993, 1997, 2001, 2005, 2008, 2012, 2016
Algebra and Trigonometry: Real Mathematics, Real People: 1993, 1997, 2001, 2005, 2008, 2012, 2016
Precalculus: Real Mathematics, Real People Alternate Edition: 1994, 1997, 2001, 2005, 2008, 2012
Precalculus: Real Mathematics, Real People: 1994, 1997, 2001, 2005, 2008, 2012, 2016
Precalculus With Limits: A Graphing Approach: 1994, 1997, 2001, 2005, 2008, 2012, 2016
Trigonometry: A Graphing Approach: 1994, 1997, 2001, 2005
College Algebra: Concepts and Models: 1992, 1996, 2000, 2003, 2006
College Algebra with Applications for Business and Life Sciences: 2009, 2013
College Algebra: A Concise Course: 2006
Algebra for College Students: 2005
Elementary and Intermediate Algebra Within Reach: 1992, 1996, 2000, 2005, 2008 (SSE), 2010, 2014
Intermediate Algebra Within Reach: 1992, 1996, 2001, 2005, 2008 (SSE), 2010, 2014
Elementary Algebra Within Reach: 1992, 1996, 2001, 2005, 2008 (SSE), 2010, 2014
Intermediate Algebra Graphs and Functions: 1994, 1998, 2003
Mathematics for Everyday Living (Out of Print): 1982
Algebra 1: 1993, 1995, 1997, 1998, 2001, 2004, 2007, 2011
Algebra 2: 1993, 1995, 1997, 1998, 2001, 2004, 2007, 2011
Geometry: 1994, 1995, 1998, 2001, 2004, 2007, 2011
Passport to Mathematics, Book 1: 1997, 1999, 2002
Passport to Mathematics, Book 2: 1997, 1999, 2002
Passport to Algebra and Geometry: 1996, 1999, 2002, 2004
Windows to Algebra and Geometry: 1996
Mathematics Concepts and Skills, Course 1: 2001
Mathematics Concepts and Skills, Course 2: 2001
Algebra 1 Concepts and Skills: 2001, 2004, 2008, 2010
Algebra 2 Concepts and Skills: 2008, 2010
Geometry Concepts and Skills: 2003, 2005, 2008, 2010
Middle School Math, Course 1: 2004, 2005, 2007
Middle School Math, Course 2: 2004, 2005, 2007
Middle School Math, Course 3: 2004, 2005, 2007
Prealgebra: 2005, 2008, 2012
Elementary Algebra Concepts and Models: 1993
Intermediate Algebra Concepts and Models: 1993
Elementary Statistics Picturing the World: 2000, 2003, 2006, 2009, 2012, 2015
Big Ideas Math Green: 2010, 2012, 2014
Big Ideas Math Red: 2010, 2012, 2014
Big Ideas Math Blue: 2010, 2012, 2014
Big Ideas Math Red Accelerated: 2013, 2014
Big Ideas Math Algebra 1: 2013, 2014
Big Ideas Math Advanced 1: 2013, 2014
Big Ideas Math Advanced 2: 2014
Big Ideas Math Algebra I: 2015
Big Ideas Math Geometry: 2015
Big Ideas Math Algebra 2: 2015
Big Ideas Math Integrated Mathematics 1: 2016
Big Ideas Math Integrated Mathematics 2: 2016
Big Ideas Math Integrated Mathematics 3: 2016
Big Ideas Math A Bridge to Success Course 1: 2014
Big Ideas Math A Bridge to Success Course 2: 2014
Big Ideas Math A Bridge to Success Course 3: 2014
Big Ideas Math A Bridge to Success Course 2 Accelerated: 2014
Big Ideas Math A Bridge to Success Advanced 1: 2014
Big Ideas Math A Bridge to Success Advanced 2: 2014
Big Ideas Math A Bridge to Success Algebra 1: 2015
Big Ideas Math A Bridge to Success Geometry: 2015
Big Ideas Math A Bridge to Success Algebra 2: 2015
Math & YOU: The Power & Use of Mathematics: 2013
Mathematical Practices: 2015
CO-AUTHORS WITH LARSON
Robert Hostetler, Penn State U
Bruce Edwards, U of Florida
David Heyd, Penn State U
Carolyn Neptune, Johnson County CC
Ann Hodgkins, Phoenix College
Ann Kraus, Penn State U
Timothy Kanold, Stevenson High School
Lee Stiff, North Carolina State U
Laurie Boswell, Profile High School
Dave Falvo, Penn State U
Robyn Silbey, Montgomery County Public School
Betsy Farber, Bucks County Community College
SOFTWARE
Interactive Calculus: 1995, 1998, 2002
Internet Calculus: 1998, 2002
Interactive Calculus Early Transcendental Functions: 1996, 1999, 2003
Internet Calculus Early Transcendental Functions: 1999, 2003
Interactive College Algebra: 1997, 2001, 2004
Internet College Algebra: 2001, 2004
Interactive Algebra and Trigonometry: 1997, 2001, 2004
Internet Algebra and Trigonometry: 2001, 2004
Interactive Precalculus: 1997, 2001, 2004
Internet Precalculus: 2001, 2004
Interactive Trigonometry: 1997, 2001, 2004
Internet Trigonometry: 2001, 2004
Interactive College Algebra: A Graphing Approach: 1997, 2001
Internet College Algebra: A Graphing Approach: 2001
Interactive Algebra and Trigonometry: A Graphing Approach: 1997, 2001
Internet Algebra and Trigonometry: A Graphing Approach: 2001
Interactive Precalculus: A Graphing Approach: 1997, 2001
Internet Precalculus: A Graphing Approach: 2001
Interactive Precalculus Functions and Graphs: A Graphing Approach: 1997, 2001
Internet Precalculus Functions and Graphs: A Graphing Approach: 2001
Interactive Precalculus with Limits: A Graphing Approach: 1992, 2001
Internet Precalculus with Limits: A Graphing Approach: 2001
Interactive Trigonometry: A Graphing Approach: 2001
Internet Trigonometry: A Graphing Approach: 2001
LarsonMath.com: Prealgebra
LarsonMath.com: Intermediate
Larson's Elementary Math, Grades Kindergarten, 1, and 2
Larson's Matemáticas Saltarinas
Larson's Elementary Math Activities
Larson's Intermediate Math, Grades 3, 4, 5, 6
Larson's Algebra 1 with Review
Larson's Algebra 1
Larson's Prealgebra